Trailer
Stills
Synopsis (.doc)
In Kings, an escalating conflict between two old men culminates in a battle fought through the card game War. Over time the game becomes more and more heated and the men start to rip, tear, smash, and destroy their cards, taking out the blood-lust they have for each other on their decks. This chaotic skirmish is ultimately seen from the cards' perspective, with the battlefield transforming into a scene of desperation as the cards have no choice but to be dominated. This film brings into question war's inevitability, and focuses on the impact it has on those who are tasked to carry it out.
Director's Biography (.doc)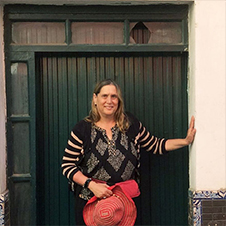 Barbara Mones is a Principal Lecturer in the School of Computer Science & Engineering, and Director of the Reality Studio, a part of the Reality Lab. She also leads the Facial Expression Research Group ( FERG). She has worked in both academia and industry in the areas of computer graphics and animation production for over thirty years. She was a tenured Associate Professor and the Founder and Director of the Visual Information Technology Graduate program at George Mason University, a Visiting Researcher in the Department of Computer Science at George Washington University, Fellow at the Human Interface Technology Lab at University of Canterbury, New Zealand, and worked for the White House and National Aeronautics and Space Administration on Al Gore's GLOBE (Global Learning and Observations to Benefit the Environment) Program. For this she was presented with a NASA Group Achievement award. She designed and wrote training programs for all aspects of the production pipeline at both Pacific Data Images/Dreamworks and Industrial Light and Magic. In her role as faculty, she has directed and produced nineteen animated shorts since 1999. Most recently she is developing curriculum that incorporates the potential of Virtual Reality into storytelling, content development and filmmaking. She has lectured extensively on an international level on topics related to animation and curriculum development. Her films have been shown in theaters and museums internationally including the SIGGRAPH Electronic Theater and the Smithsonian Institution. Barbara received her undergraduate degree from University of Michigan, Ann Arbor. Thereafter, she studied animation at Sheridan College and received an MFA from Rhode Island School of Design.
Technical Credits (.doc)
Director / Producer
Barbara Mones


Team Leads
Character Motion / Rendering
Robert Forsberg
Rigging / Character Shading / Effects
Jason Jones
Lighting / Character Modeling
Andrew Yurovchak
Cinematography / Editing
Erik LeDrew
Set Shading
Justin Pai
Set Concept Art / 2D Card Shading
Lauren Quist
Character Motion Support
Derek Shiu
Explosion Effects
Koos Kleven
Music / Sound Design
Robert Gay

Poster
Brian Britigan
2D Motion
Saille Schumacher
Character Concept Art
Matt Davis
Exterior Set Design
Amber Manuguid
Prop Modeling
Ryan Irilli
Layout
Byron Jennings
Foley Support
Cale Schupman
Production Artists
Jordan Hill
Sharon Lin
Andrew Sher
Scott Wade