Stills
Synopsis
As a newly hired fish thrower gets settled into his position he finds the girl of his dreams working at a flower stand across the street. Unfortunately business is not going well for her, so in an effort to cheer up and impress his newfound crush he puts on an increasingly elaborate show of fish throwing. Her response is to mirror his routine using flowers, each toss more impressive than the last. The playful exchange escalates until it takes a turn for the worse. After a terrible accident the fish thrower must make a hard decision about what's more important: His job, the girl, or something else entirely.
Director's Biography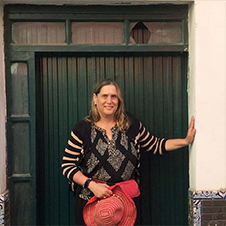 Barbara Mones is a faculty member in the department of Computer Science & Engineering and serves as Director for Animation Production in the Animation Research Labs, an Advanced Technology Initiative at the University of Washington. She has worked in both academic and industry in the areas of graphics and animation production for over twenty-five years. In her role as faculty she has directed and produced eleven animated shorts since 1999. She has lectured extensively on an international level on topics related to computer graphics, animation and curriculum development in addition to designing and executing her own graphics and animation that have been shown in many museums and institutions worldwide, including the Smithsonian Institution and the Villa Ciani Museum in Switzerland. Her animation has been shown in the SIGGRAPH Electronic Theater and her artwork has been shown in the SIGGRAPH Art Show. She has chaired Panels (97), Sketches (Design, 96) Art Educators (Education Committee (85-95) served as a juror for the Art Show (1995, 2007) and Electronic Theater. She founded and chaired the SIGGRAPH Student Animation Competition (1984, then became SPACE in 1985) and coordinated it for fifteen years. SPACE became an international traveling show in 1989. Post undergraduate, she studied 2D and 3D animation at Sheridan College and has an MFA from Rhode Island School of Design in mixed media sculpture and installation. Her research and production interests include animation, storytelling, content development, fast prototyping, and the production pipeline design for games and film.
Technical Credits (.doc)
Director / Producer


Barbara Mones


Music
Written By: LeRoy Shield
Performed By: The Beau Hunks
Courtesy: Basta Music


Production Team
Christina Boscole
Brad Bicknell
Hannah Christensen
Marc Bourguignon
Sunny Kim
Lily Lao
Win Leerasanthanah
Nina Marien
Ashley Prescott
Justin Ryll

Ben Self
Jennifer Sloan
Diana Stone
Keith Stone
Kendra Stout
Jenn Swanson
Andrew Theisen
Jonathon Torone
Jennifer Yang
Robert Forsberg
Nicholas Garrett
Devin Johnson

Sean Mack
Tracey West
Sheri Yin
Anton Bogaty
Brian Britigan
Gary Faigin

David Hunt
Brian McDonald
Gary Schwartz